Posts for tag: St. Patrick's Day
By DM Foot and Ankle Associates
March 16, 2017
With tomorrow being St. Patrick's day, we know that a go-to meal for many people in the United States will be Corned Beef and Cabbage. In case you're looking for a good recipe to use, we got this one from http://www.food.com:
Ingredients:
1 (2-6 lb) corned beef brisket
1 teaspoon peppercorn (if spice packet is not included with corned beef)
2 dried bay leaves (if spice packet is not included with corned beef)
1-3 head(s) of fresh cabbage
6-12 medium red potatoes
1 fresh carrot
fresh parsley (do not used dried)
butter
1 fresh garlic clove
1 medium white onion
mustard (if you please)
lager beer (optional)
Directions:
Use a large Dutch oven or stock pot that will hold everything all at once.
Place the brisket (best side up) in the bottom of the pot.
Add the spice packet that came with the corned beef. If the corned beef did not come with a spice packet, use the peppercorns and bay leaves instead.
Cover the brisket generously with water and a bottle of beer (beer is option, however, it does add flavor and is a tenderizer).
Bring to a boil.
Reduce heat, cover and simmer for 2 hours.
While the meat is simmering for those two hours, scrub and rinse the red potatoes removing any eyes and bad spots. You will want to leave as much of the peel as possible. Once cleaned up, quarter the potatoes and cover them with water until you are ready to use them.
Remove the outer leaves form the cabbage until the leaves are antirely light green, rinse and cut into quarters through the spine so they stay together. Set aside.
Peel the carrot and cut it into quarters. Set aside.
Peel the onion and cut it into eighths. Set aside.
Rince the bunch of fresh parsley and chop up just the tops into very tiny pieces.
After your corned beef has been simmering for two hours, add the potatoes on top of the brisket.
Add water to cover everything.
Bring to a boil.
Reduce heat, cover and simmer for 10 minutes.
Add the cabbage on top of the potatoes and add onion and carrot on top of the cabbage.
Add water to cover everything.
Bring to a boil.
Reduce heat, cover and simmer for 20 minutes.
Check the cabbage to see if it is tender. If not, simmer for another 5 minutes.
When done, in a large serving bowl where you can sitr the potatoes, crush the garlic clove and rub the inside of the bowl with it.
Place the potatoes in the bowl while still piping hot and add at least a quarter pound of butter and a handful of the fresh parsley.
Gentley stir until butter is melted, it coats all the potato pieces and the parsley is evenly distributed.
Put the rest of the parsley into a single serving bowl for anyone who may want to ad more.
Slice the brisket cross grain.
ENJOY!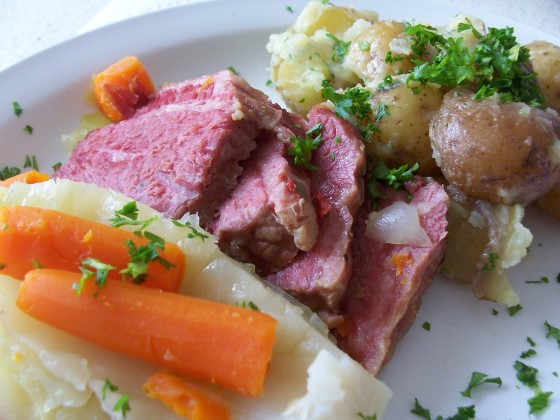 By Dr. Diana Emini
March 17, 2015
We hope that your St. Patrick's Day shenanigans have been filled with lots of luck, leprechauns, rainbows, and happiness. In keeping with the March theme of National Nutrition Month, we've decided to give you some options for keeping your St. Patty's Day healthy!
Eating healthy doesn't have to be hard, there are many simple ways to keep your food tasty and healthy at the same time. One of these options is substituting your normal ingredients with some healthier options. With a few simple substitutions during your cooking and baking, you can have a healthy, but still yummy treat, to celebrate St. Patrick's Day.
| | |
| --- | --- |
| Ingredient | Healthy Substitution |
| Butter | Unsweetened Applesauce / Coconut Oil |
| Wheat/White Flour | Almond Flour / Coconut Flour |
| Sugar | Vanilla / Coconut Sugar / Stevia |
| Chocolate chips | Cacao Nibs |
| Mayonnaise/ Sour Cream | Non- Fat Greek Yogurt |
| Croutons | Nuts |
| Bread Crumbs | Rolled Oats |
These are just a few options to make your food healthier while still keeping that great taste. Have fun with your cooking and HAPPY ST. PATRICKS DAY!